Song Books
Photo Gallery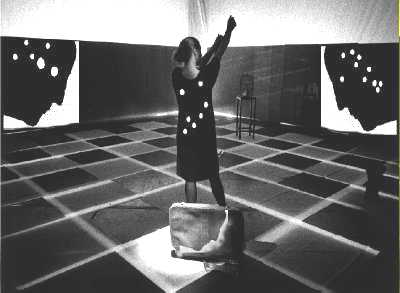 | | |
| --- | --- |
| EXECUTIVE PRODUCER | KunstenFESTIVALdesArts (Belgium) |
| CO PRESENTATORS | Octobre en Normandie (France),ATEM Nanterre (FRANCE) |
| PROJECT BY | Marianne Pousseur |
| SET AND LIGHTING DESIGNER | Enrico Bagnoli |
| IMAGES | Carl De Keyser |
| SINGERS | Vincent Buchot, Lucy Grauman, David Linx, Marianne Pousseur |
| ACTOR | Paul Camus |
| LIVE ELECTRONICS | Johan Vandermalen |
| THEATRE ADVISOR | Isabelle Pousseur |
| MOVEMENT COACH | Joanne Saunier |
| MUSICAL ADVISOR | Eric De Visscher |
---
In Song Books John Cage gathers no less than 90 soli: it is up to the performers to make choices in this extensive material. Marianne Pousseur takes up the challenge. Together with three other vocalists, an actor a photographer; a sound artist and a light designer; she creates a way through Song Books: when streams of sound, light pictures and action come together, meaning occurs accidentally.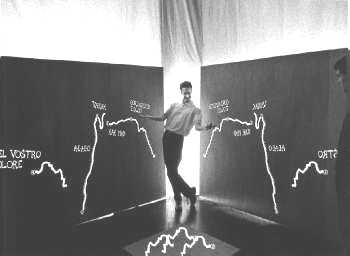 Whoever would dare to take on Song Books by John Cage is faced in more than one way with a gigantic challenge. The composer John Cage wrote his Song Books in 1970: in the record time of three months he composed no less than 90 solos, good for 370 pages. Here are brought together very diverse works of differing musical and theatrical styles, created according to differing methods of composition. To begin with, there are solos for voice: these voices may or may not be electronically modified; they can stand on their own or may be accompanied by theatrical action. Some solos contain no sung parts at all. Others contain only theatrical action. Not every solo must be sung. At first sight it seems one may choose whatever solo and combine it with any other solo. But Cage asks of the performer the same "conceptual" discipline he demands of himself. « We connect Satie with Thoreau » was the motto he chose at the time for Song Books. Erik Satie was a favorite composer of Cage due to the freedom present in his musical thinking; Henry David Thoreau is known especially as the author of Walden, a primordial book concerning thinking about man and nature as one, and of Civil Disobedience which elevated Thoreau to the role of spiritual father of peaceful (political) disobedience. In short, "We connect Satie with Thoreau" is a motto that brings together freedom, non-violent resistance, the unity of man and nature, and the unity of man and environment. It is in this spirit that the work initiated by Marianne Pousseur came to be. Contained in this spirit are Cage's ideas concerning music and composition in which the integration of silence and sound are crucial elements: via unusual composition techniques, the most famous of which is that of chance.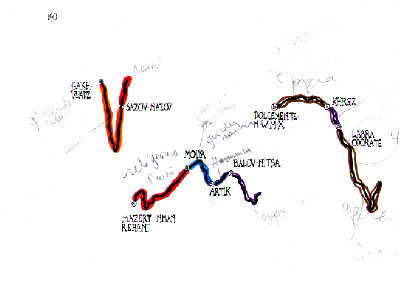 This spirit also houses Cage's fundamental feeling for the power of individual thinking with respect to all that is canonized in art as well as in life. « Moreover, » says Marianne Pousseur, « it can bring us into a permanent and intimate contact with nature. Not because it concerns a pastoral work which is descriptive in character, but on the contrary, because in different places the score makes use of elements in nature: star constellations or geographical maps. Most fascinating is that these structures must in some way then be thought to the music itself to the use of voice... ». It is a team of eight which rises to Cage's challenge. Marianne Pousseur herself has considerable experience in the performance of contemporary music: with the Schoenberg Ensemble, Ensemble Intercontemporain, Musique Oblique, and Helix Ensemble ( which she herself founded). In different works she plays with the borders of the theatrical, as in her collaboration with director Isabelle Pousseur for Theatre du Ciel Noir. In this project it is Isabelle Pousseur who is the eye which looks in from outside and guides. From that same Helix Ensemble, which moreover lies at the origin of the current project, come two other vocalises: Vincent Bouchot and Lucy Grauman.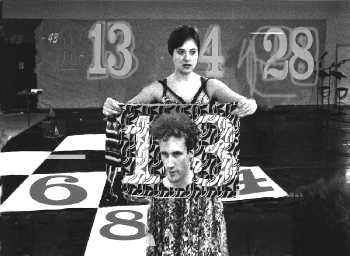 Bouchot is a composer and singer interested especially in Renaissance music. This is evident in his work with the Ensemble Clément Janequin. Vocalist Lucy Grauman often works in theatre and is psychotherapist. The fourth vocalist is David Linx, a percussionist and musician with broad experience in the field of jazz. Paul Camus, a young French actor, open to theatrical experiments way beyond text, joins them. In Song Books they collaborate with photographer Carl De Keyser. He has achieved international fame with his penetrating reportages and his projected images inject an element of the here and now into this collaborative work. The reply to these is supplied by Johan Vandermaelen and Enrico Bagnoli. The later is a light designer and stage designer; among others he has created stage designs for director Thierry Salmon in A.Da Agatha which could be seen in Brussels during the first KunstenFESTIVALdesArts. Johan Vandermaelen handles the live processing of all recorded sound on stage. This team finds a way through the Song Books via an ingeniously worked and provided with projections upon the walls and floor, and equipped with track lighting. Not a dramatic structure with predictable climaxes, there is a flux of solo-events which sometimes occur separately and sometimes simultaneously.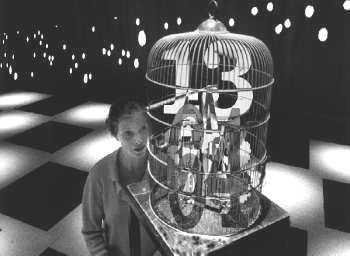 The coming together of action, image and sound is a conscious confluence of circumstances, coincidental and yet filled with meaning. The one medium colours the other. Voice, image, sound, action, light and dark flow into another. It is precisely this room for play which Cage has created in Song Books and which makes the performances so exciting: John Cage does not forge together the different materials he touches, but he places them in a process, in a laboratory. In this laboratory he appeals to the performers and to the audience to explore precisely the idea of coherence, connection, meaning and composition. This piece is 26 years old and bears the markings of the world and artistic universe of its time. This framework is provided with a here and now content via contemporary human imagination: that of the eight artists involved and finally that of the audience.

E-Mail to Song Books Team