Press Release:
02-03- 00
Curno multiplex theatre in Italy stars Martin lighting
United Cinemas International's (UCI) latest theatre complex, a multiplex theatre in Curno, Italy, offers moviegoers more than just the latest Hollywood blockbuster but an outdoor and indoor attention-grabbing Martin light show as well.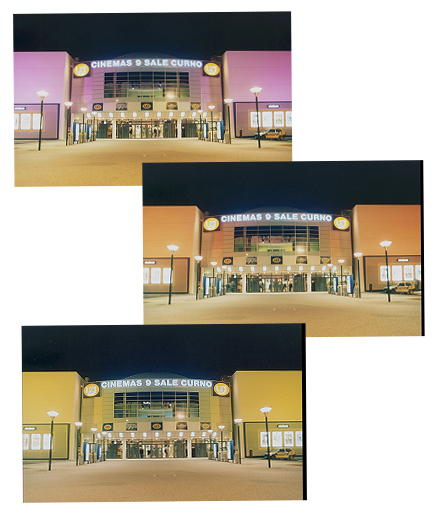 The $35 million UCI theatre project has spared no expense while incorporating Martin products throughout the venue - outside the cinema, in the lobby and in the individual theatre salons.
Two Exterior 600s and 2 PAL 1200 automated framing spots were used to illuminate the outside fašade providing color changing and pattern effects.
A series of effect lights are used in both the lobby and in the cinemas themselves. Light is projected onto the screen as the audience waits for the movie to begin.
The 9 cinemas seat a total of 2,400 movie enthusiasts who watch as patterns glide across the walls of the theatre and across the screen, including corporate logos such as Universal Studios and other corporate sponsors.
The lobby and individual salon product list includes 16 MAC 500s, 4 MAC 250s, 2 RoboScan Pro 918s,16 RoboScan Pro 518s, 8 RoboScan 812s, 32 RoboColor IIIs, 2 Jem StageHazers with control coming from 3 Martin ProScenium controllers.
Ten Exterior 600s, 28 MAC 250s, 30 MAC 500s and 10 MAC 300s were used for the December 11th Grand Opening. Italian movie star Raul Bova was present at the opening providing an added air of excitement to the evening.
United Cinemas International plans on opening 20 more cinemas across Italy over the course of the next 5 years, a total investment valued at a staggering $325 million! All lighting for the Curno theatre was provided by Martin Italy.
---
For more information contact PR Coordinator Larry Beck at Martin Professional on:
Telephone: +45 87 40 00 00, Telefax: +45 87 40 00 10, E-mail: larry.beck@martin.dk