Press Release:
25-02- 00
Martin illuminates Nokia concept stores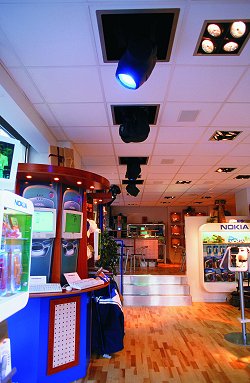 Martin moving heads, Jem haze machines and a Mach sound system has long been the recipe for a successful club or touring environment. Now innovative companies like mobile phone giant Nokia are discovering the potential of this combination as well.
The first of Nokia's new concept stores recently opened in Odense, Denmark with a host of lighting, sound and smoke products from Martin Professional including MAC moving heads.
Martin's Danish distributor, Martin Danmark, supplied the products and has been an active partner in the interior design concept, as well as the thought process behind how a boutique should be experienced and used by individual customers.
Together with companies Dangaard and Nokia, Martin Danmark has worked to develop a unique and innovative store where the primary purpose has been to create an experience for all customers.
The basic idea was to create a "total experience", that is, a visual impression together with sound. Martin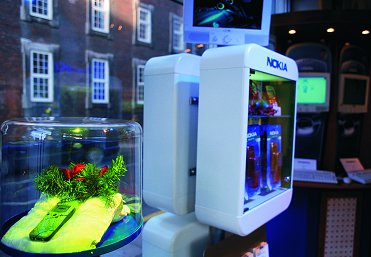 Danmark was asked to come up with new ideas, something that had never been seen before yet something that wouldn't bother their "business" clientele. Whether students or businesspeople the experience and effectiveness of the concept is meant to be the same. While the concept of experience is important, the fact that this is business has not been lost however. The main purpose is to create an atmosphere which makes customers more willing to purchase something.
For the individual presentations and shows, the entire store is used - walls, ceiling and floor. When a customer enters the store a presentation can be started which consists of light and sound effects while lively images are broadcast on the flat screens.
When the presentation starts, the lights are dimmed, sound effects fill the room, and the moving light effects move about the room. Products themselves are illuminated with color or pattern as are point of purchase displays. On the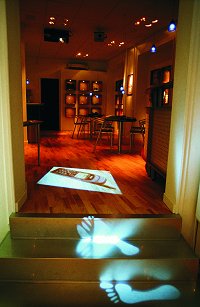 flat screens, a particular product presentation can be shown. Display cases are illuminated with colors that complement the products and abstract patterns are rotated slowly across the cases. Nokia logos are projected across the store, both on the walls and floor. Even haze is incorporated in the form of a Jem TechnoHaze. Moreover Nokia flat screens, located around the store, are used to advertise specials and promotional campaigns.
After hours the store remains active. Censors register whether there is activity outside the store, and sensing movement a short presentation program is activated. The lighting comes to life, color and effect presents products and 3 LCD screens turn toward the potential customer.
The store lighting concept has been well-received by customers and Nokia personnel alike. The Nokia store lighting concept has been used in Berlin as well and is to spread to other Nokia stores around Europe.
The install for a typical Nokia concept store consists of 4 MAC 250+, 3 MAC 300s, 2 imagescans, 1 Jem TechnoHaze, 16 Mach speaker MlW62 In-fill speakers, a Mach 151I subwoofer, 1 ProScenium with LCD touchscreen as direct access controller, an Ecler AMP system, 5 DMX turntables for LCD flatscreens, and 1 Seleco SLC 600 LCD projector as well as various dimmer and switch packs.
---
For more information contact PR Coordinator Larry Beck at Martin Professional on:
Telephone: +45 87 40 00 00, Telefax: +45 87 40 00 10, E-mail: larry.beck@martin.dk