ProScenium BlackBox, a DMX-512 record/playback tool
---
A new way to develop DMX-512 lighting:
Our BlackBox tool for Win95 let any sequence of lighting cues be captured by a DMX source direct-to-disk and then played back.
As simple as a tape recorder. All real-time effects are rendered, with a compact storage technique that lets hours of lighting effects be stored in a few megabytes of disk. Use your expensive DMX equipment just to develop your show and then let BlackBox capture it and play it back, one-time or looping.
Ideal for theme park, museums, disco, every place where repetitive playback of a lighting effect sequence is required.
A simple, standalone Win32 application for Win95. Any inexpensive PC, coupled with one of the two offered DMX interfaces (DMXAdp and Martin I/O) is all you need.
Here is how your BlackBok panel will look like on the screen: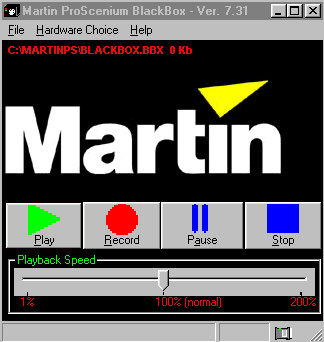 Download Martin ProScenium BlackBox User's Manual
---
---