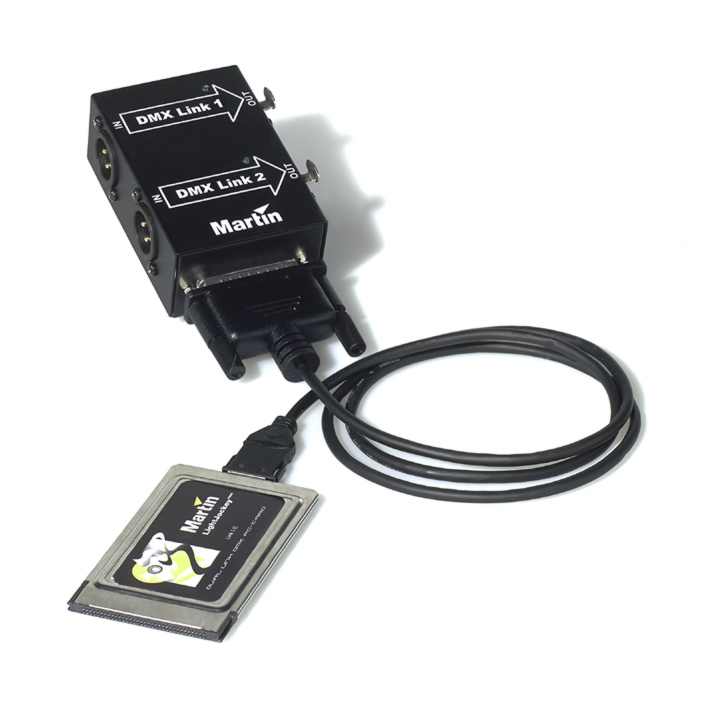 DMXCard Dual-Link DMX-512 PCMCIA Interface Card
---
A unique, innovative product, developed by Digimedia, that allows professional use of DMX control using laptop computers with a very reliable and portable solution.
---
DMXCard, DMX PCMCIA Card, is a PCMCIA standard Dual-Link DMX interface. It is very small and perfectly suitable for use with Windows notebooks, addressing a large number of portable DMX applications .

Different versions are available for various controller product. Naturally, DMXCard is provided coupled with the powerful Martin ProSceniumDMX software package in the Martin ProSceniumDMX portable PCMCIA kit.

Other versions are available for all Martin controller product, as described in Martin website, and the device is also available for licensing to large OEM users, bundled with DMX libraries. For further information regarding OEM customized versions of DMXCard, please contact Digimedia Support

DMXCard kit is made of a standard PCMCIA type-2 card, a very solid molded-type shielded cable and a rugged wiring metal box with two IN/THRU-OUT connectors available with XLR 3-pin and 5-pin versions. Power is supplied by the laptop and automatic cable switch and termination handling is provided. DMX line interface is surge and short-circuit protected, to minimize risk of damaging the PC with transient voltages or serious DMX cabling problems.

DMXCard is capable of driving and receiving DMX-512 signal as defined by USITT-1990 specifications, with full 1024-channels In and Out resolution. The interface is intelligent (microprocessor based) to let PC CPU be dedicated to the lighting program with all DMX line handling done by DMXCard processor.
---